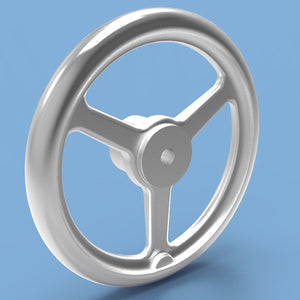 4" 3-Spoke Straight Product Description
Well-Built

We manufacture our 4" 3-spoke straight hand wheel using the industry's most stringent standards, so you can rest assured that you're adding a high-quality element to your design or replacing a part on your project with a hand wheel that stands up to the rigors of use and abuse. Our hand wheels conform to MIL SPEC MS21312 for easy compliance with your project.
Top-Grade Materials
Our 4" 3-spoke straight hand wheels are made of cast aluminum, so you can have confidence in their staying power and performance once installed. Ask us about special finishes available for your hand wheels. We offer options such as painting, plating and anodizing. Custom machining and tooling are also available. See us for special cross holes, bores and keyways for your chosen hand wheel designs.
Custom Hand Wheels Available
Our engineers and retooling specialists are adept at creating custom hand wheels for a variety of industries, including mining, agriculture, and biotech. Trust us with your custom hand wheel order and you will not be disappointed. 
To order a custom hand wheel, please contact us.